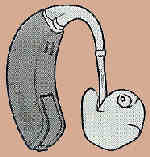 Hearing Aids
I am not even close to being an expert on hearing aids, but I have gone from "all-in-the-ear" to "behind-the-ear" to "digital behind-the-ear" aids; so I know that those three are available.
I would like to point out something that I learned the hard way with my first hearing aid. The first audiologist suggested putting a hearing aid in the ear that tested to be the "worst." All I got was amplified "noise" and just finally quit wearing it. At the insistence of my mother, I visited another specialist in Lexington, Kentucky who showed me that his test revealed that I was understanding more words when he amplified the "good ear." Thus my first successful experience with the all-in-ear hearing aid in my better-hearing ear.

They don't restore "natural hearing," and anyone expecting that will soon give up on wearing their aids. It requires some adjustments. Your voice sounds "funny" and some sounds are too loud, but with persistence and patience it soon becomes "natural" to the wearer of a hearing aid as you learn to make necessary adjustments.

As time went on, my hearing continued to deteriorate and I began wearing two behind-the-ear aids (more powerful than all-in-the-ear). Eventually the hearing loss became so severe that I am now wearing digital aids. Unfortunately, I have very little natural hearing and have to rely on speech-reading as much as sound. The article I began this feature with (Will You Help Me Hear You) could have been written by me (not nearly as well, of course!), because I can identify with everything Mr. Kennedy wrote.

Only those who are trained to do audio testing can help you determine what will benefit you most, but may I encourage anyone who is not hearing "up to par" to be tested. Don't be backward or embarrassed to wear a hearing aid. People don't feel shy about wearing eyeglasses when they need them, and they should feel the same way about hearing aids. We who are hearing impaired have lots of company!

When you first notice you are not hearing well, you need to be evaluated by an Otologist (Otolaryngologist or Otorhinolaryngologist) who can determine the cause. It could be some other health problem. His evaluation can help determine if the problem is treatable before a hearing instrument is purchased. You will receive a report of his findings that will assist the audiologist in his testing to learn what instrument will serve you best.
In most cases you will have a trial period to decide if you wish to buy the aid. You might be charged a fee that will be credited toward the purchase price if you buy it. Some dispensers will give you thirty days of trial.

An ear mold will be made to custom fit your ear. Don't hesitate to complain if it is not comfortable. If it hurts your ear, you won't wear it!
Wearing an ear mold may accelerate your "ear wax" (cerumen). It was "normal" for me, but everyone is different. Some folks may find they are allergic to the mold material and may have to have a non-allergic material used. In short, do everything possible to make the experience as comfortable as possible so you will be able to wear your hearing aids and enjoy the improvement they will bring to your life.

Do your homework before you see the specialists who can help you choose what is best for you. There are web sites and information available, so take advantage of it. Don't wait! If in doubt about your need, settle it by seeing a specialist!
A special note--When conversing with a hearing impaired person wearing a hearing aid, please don't shout at them. That's why they wear the hearing aid, to increase the volume of sounds. If you raise your voice more than normal, it will only cause the sound of your voice to become distorted. Of course whispers are hard to follow, but normal volume will assist the hearing impaired person to understand you better. Just speak distinctly and not too fast; and don't change the subject abruptly without warning.