"…because I [Jesus] live, ye shall live also" (John 14:19)
Without the force of gravity, we would be floating around in the air above the ground instead of having our feet firmly planted on terra firma. And that's a good thing! It would difficult to control where we go, how far and how fast without the aid of gravity. God planned it so that we could determine where our feet took us; He made it so we could choose our way.
There is another "gravity" that is not good. It is the gravity of sin. When Jesus comes back in the clouds for the blood-bought, born-again church, those who have made preparations will have shed their gravity; they will leave this earth and meet the Lord in the air. Those who are not prepared will be held to the earth by the gravity of sin. The force is so strong that they will have no choice but to stay on the earth to face the tribulations that are coming on those left behind.
Even those in the graves who died after they had made Jesus Christ their Lord and Savior will not be held by gravity. They will arise from their various burial places in their resurrected bodies and be joined by those who are alive, and together we will meet the Lord in the air.
"For if we believe that Jesus died and rose again, even so them also which sleep [are dead] in Jesus will God bring with him. For this we say unto you by the word of the Lord, that we which are alive and remain unto the coming of the Lord shall not prevent them which are asleep. For the Lord himself shall descend from heaven with a shout, with the voice of the archangel, and with the trump of God: and the dead in Christ shall rise first. Then we which are alive and remain shall be caught up together with them in the clouds, to meet the Lord in the air: and so shall we ever be with the Lord" (1 Thessalonians 4:14-17).
What a joyous time that will be! No longer will we be subject to earth's gravity as we rise to meet the Lord in the clouds. It will not hold us when Jesus calls us for that meeting. When we made the most important decision of our lives, repented of our sins and made Jesus our Lord, we lost the gravity of sin and were no longer subject to its penalty of eternal separation from our Lord; the world's gravity lost its hold on us.
But what a sad day for those who are held fast to this earth by the gravity of un-repented sin!
Gravity = Weight, heaviness (Webster)
Sin is a heavy burden to carry by even the strongest man on the planet. He can't lay it down and walk away from it on his own. He can't lay it down and pick it up at will. He can't give it to his best friend to carry for him. He carries it—alone—because it is his choice. There is only one way to rid himself of it—give it to Jesus! He has to decide that it is too heavy for him and just bring it to the cross on which Jesus hung and died for that very purpose, to lift the heavy gravity of sin from his life. Jesus will exchange burdens with him.
"For my yoke is easy and my burden is light" (Matthew 11:30).
The force of the gravity of sin by which man is bound will drop away the moment he hands his life over to Jesus who has already defied the source of power of sin's gravity; He paid the penalty and broke the force, freeing from its power those of us who have accepted the release acquired by Jesus Christ. The 'source' is Satan and he holds the gravity against the sinner until he breaks free from its power by allowing Jesus Christ to come into his life, breaking the hold and bringing the freedom of salvation. There is no other way! None!
"Neither is there salvation in any other: for there is none other name under heaven given among men, whereby we must be saved" (Acts 4:12).

"And I, if I [Jesus] be lifted up from the earth, will draw all men unto me"

(John 12:32).\
The "drawing power" of Jesus is mightier than the strongest magnet of sin's gravity. Jesus has broken the hold of Satan from all those who "lift Him up" and have been set free by His Precious Saving Blood!
Just any day now, the dead in Christ will hear the trumpet sound and the voice of the archangel calling them from the grave, the gravity of sin having lost its power before their death. At their resurrection, we who are alive will join them in a glorious break from earth's gravity and join the Lord in the air—forever to be in His presence, free from all effects of the gravity of sin and this earth.
Are you ready? If the gravity of sin has you bound, allow Him who created gravity to set you free from the effects of sin and be prepared to leave this earth's gravity-pull when the Lord returns for His church. Don't be earth-bound by the sin's magnet and be left behind.
What a meeting that will be! Don't miss it!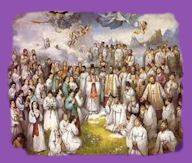 "I'll See You in the 'Rapture' "
~~Delores~~